---
Mobile
---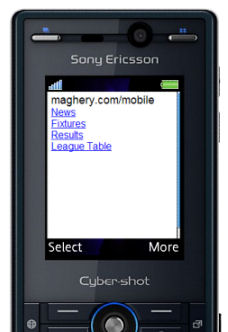 As more and more people are surfing the web on mobile phones and other wireless devices, we are pleased to offer a mobile edition of maghery.com on your phone or PDA for news, results, fixtures and league tables.
What internet address do I type into my mobile to get Maghery.com content?
If you are able to access the internet on your mobile, type the address - www.maghery.com/mobile - into your phone's internet browser and then select the content of your choice.
How much does it cost to look at Maghery.com Internet content on my phone/PDA?
Maghery.com does not charge for its mobile content. However, your operator will charge for using the internet on your phone. Costs vary from operator to operator. Operators may charge for time spent browsing or amount of data downloaded. Consult your operator to find out their specific charges.
Some of the content is not aligned correctly when viewed on my mobile/PDA. Is there something I can do?
Check if your mobile/PDA has an option to change the orientation when viewing web pages; if so select "landscape". Also some mobile/PDA devices have "best fit" technology which resizes and wraps content to fit on the screen; try disabling the "best fit" option.