---
Maghery Are Champs
---
01 October 1970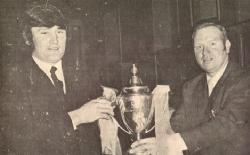 Maghery Are The 1970 League Champions

Maghery Sean MacDermotts are the undisputed All-County League champions for the first time in their history. Maghery gave some semblance of competition to the league race. As early as July all the clubs in Divison One were left struggling far behind in the League Table. Tones strode proudly out in front, while Maghery tagged along, behind two points, four points and at mid-October five points separated the leaders as the official season came to an end.

Winter closed in and Maghery narrowed the gap. Then a late victory over Carrickcruppin put MacDermotts in front and the MacDermotts found themselves waiting for the Clann Eireann - Tones match on which the title hinged. A win for Tones would have brought about a play-off between the Derrymacash men and Maghery for the honours.

Surprisingly the Tones fell victim to the defiant Clann Eireann men. It was a hard-fought game ending with the score: Clann Eireann 3-2, Wolfe Tones 1-7, the margin only a single point, but it was enough to dash the hopes of Tones and rob them of that elusive title.

Maghery's success will give hope to many teams in County Armagh where for too long clubs have accepted the dominance of the "big two", Crossmaglen Rangers and Lurgan Clan na Gael. Regular training and constant practice raised the standard of football at Maghery and their fitness and talent made them a match for any team in the county.

It was a long, hard trail, but Maghery have at last reached the top and go into the new season with raised sights and fresh hopes built on firm foundations. They have ambitions to win the County Championship, and indeed are thinking seriously of the possibility of bringing the Ulster Club Championship to the Lough Shore! It could happen!