---
Martin Toye, Hogan Stand Dec 92
---
18 December 1992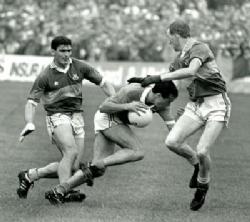 Taken from Hogan Stand magazine
18th December 1992

Martin Toye

Photo: The 3 Martin's... Armagh v Donegal Ulster Final 1990, Martin Toye in posession is pursued by Martin Gavigan and Martin Shovlin

Retiring from the county scene
But such a move should be only a temporary one for Maghery and Armagh footballer Martin Toye.

Hunting points and fishing out the quickest route to goal was always Martin Toye's game. In latter times, however, Armagh team manager Jim McCorry has experimented with transforming the 'erstwhile poacher into a gamekeeper par excellence but word on the ground has it that the Maghery man was like a fish out of water. In the Orchard County vernacular, Toye was placed on the slippery slope, catapulted out of surroundings he knew best and left far from standing on terra firma.

Ordinarily a keen, inventive attacker with a penchant for covering every inch of the last third of the pitch, Martin Toye's relocation to the left half back berth for this year's National Football League campaign wasn't something his fans wanted and although not happy with his own form, the player himself loyally gave his new role a lash. A different slot in the shop window but still a means of achieving his footballing goals, he thought. Seven years after first pulling on an Armagh senior jersey, Martin Toye has decided though to take a break from trying to 'establish myself as a county player.'

The Maghery maestro baulks at the suggestion that his self-imposed departure from the senior county scene will be anything other than temporary. He won't concede either that, at 27 years of age, his best days are behind him. "I hope that next year, when my form improves, that things will be different but for the present, Iíve decided to withdraw from the panel. Because of my business commitments I haven't been able to reach peak fitness and that's really what has brought this decision about," explained the commercial lorries sales dealer.

Martin Toye's decision to sit back, take time out to recharge his batteries, and rebuild his confidence using the county club scene as the conduit towards making a fresh assault on the inter county scene is not without it's precedent. It was a similar story back in the days when Paddy Moriarty and Joe Kernan were at the helm. Very much part of the scheme of things in the early part of their new management set up, Martin likewise bowed out for a period of time to rediscover his best, most invigorating self. It worked the oracle then and, business commitments allowing may well facilitate a similar renaissance for one of the most naturally talented footballers produced in the north Armagh area.

As an attacker of great opportunism, vision and skill, Martin Toye was an archetypal Orchard County player on the senior inter county stage. A man straight out of the mould as that which produced players like John Corvan, Peter Loughran, Peter Trainer and Sean Devlin in modern times playing defences a merry dance from his, more often than not, corner forward berth. Pace, that most lethal weapon, in any attackers armoury was Toye's stock in trade, on the domestic Armagh club scene and on less hospitable circuits. In truth, an effervescent character who would put the zing back into even the most stale of game plans, Martin Toye, at his best, represented the umph in Armagh attacking play.

A full forward's dream running mate in any knock out encounter, the 5í'0 frontman, who best operates in open, quick-moving football, made an inauspicious start however to his county career at senior level. A former Armagh county under 21 team captain, who manfully made light of being overlooked at minor level, Martin Toye, ever since 1985, has 'oft times been the subject matter of a sports quiz or two even. Fact is, the then 20 year old schemer was charged with injecting new ideas and pace into Armagh's ulster Championship assault against Monaghan at Breffni Park. Toye's introduction into the fray for the last quarter of the match marked his first ever appearance for the county seniors. Inside three minutes though, the debut boy's appearance was clouded in controversy and notoriety. A lunge 'cum tackle at Castleblayney clubman Declan Flanagan was enough to put him on his way back from where he had minutes earlier departed in anticipation of becoming a match winner. As he made his way to the dug-out, visions of him being labelled 'enfant terrible' raced through his mind. The quiz book gurus couldn't believe their luck and neither could Toye, albeit for an understandably different reason.

Malice afterthought? No way, the man at the centre of the infamy maintains. "I didn't even get a kick at the ball when Flanagan went to go past me, he sidestepped me as I went to tackle him and then he collapsed in a heap. I didnít even connect, never mind hurt him," insisted the unrepentant attacking wizard. Fortunately for Toye and Armagh, his cameo performance wasn;t as costly as it might have been, for the Orchard County extricated a draw for themselves on the day. However, now that he has provided such potent ammunition for quizmasters nationwide and to those of a particularly Armagh hue, disentangling himself from such hard facts may not be quite as simple!

Seen at his best when playing with the confidence of a proven scoregetter, Martin Toye has undoubtedly played by far and away his best football for his club Maghery. A near-neighbour of Tyrone;s Clonoe club which plays host to the hardened talents of Kevin McCabe and deadly rivals of Armagh's Collegeland outfit, the Maghery unit is swamped by Toyes, Foxs, Robinsons and Forkers. Corner back Eamonn (25) and reserve midfelder Dermot (21) compliment their older brother Martin's firey engine-room operations for Maghery as they strive to scoop their first ever county senior championship title. Sandwiched between the towns of Lurgan, Portadown and Dungannon and perched like an island between the rivers of Blackwater and Bann, Maghery breed them tough, committed and loyal sons of Gaeldom. Martin's father Noel was an Armagh fringe player in days of yore as well while 'erstwhile wing back Kevin Rafferty put the tiny gaelic games stronghold on the GAA map back in 1977 when he figured on the Armagh senior team overpowered by the mighty Dubs in the All-Ireland Final.

Loyalty to their heritage. Theyíre one of the same.

Winners of the Armagh Under 21 Championship title in 1982, Maghery rides high in the popularity charts assembled weekly on the southern side of Louth Neagh. The club exudes a unity of purpose and they stick close together to form a veritable battering ram against traditional local GAA giants like Armagh Harps, Crossmaglen Rangers and Pearse Og. Players like Michael Fox, Damien "Dixie" Robinson, Liam Mackle and Liam Fox survive, among others, from the aforementioned '82 winning side. The 1989 Maghery Minor side which reached the Ulster club final has left it's mark on the current Senior XV. Jim Robinson is tipped for great things. Further along the line, Kevin Rafferty Junior, Joe Fox and Kieran Robinson add zest and creativity to the wily play of senior citizens on the Maghery team like Dermot and Jor Forker. According to Martin Toye, big time success is only a psychological victory away.

"The team enjoys it's football but maybe we're just lacking that wee bit of ambition or self belief. If the side can just knuckle down for a few matches in succession, we could really make it haven for ourselves. We've proved it in the past that we can live with the big guns."

A Drumcree High School graduate (where he captained the football team) Martin Toye knows better than most home grown heroes, the heartbreak of runners-up affairs. Football may have a soul but little heart, it seems. At just 17, the Portadown-based student shouldered for the first time at senior level, the mantle of bridesmaid status when the Rangers from Crossmaglen beat majestical Maghery in the Blue Ribban of Armagh Championship Finals in 1983. In truth, it's been a tale of what might have been for the affable attacker cum attacking wing back on every front. A member of the Maghery team, which also lost out at the final hurdle in 1984, this time to Pearse Og, consolidation is not what Toye and Company are about these days. Senior supremacy is the name of the game now.

Beaten by Saint Peter's of Lurgan in this year's senior championship, losers against Armagh Harps in the 1991 decider and semi final runners up the previous year, Maghery have set their sights on greater horizons than those reached back in the mid-eighties when two senior league titles were clinched. With all seven affiliated teams at the club, bristling with talent, the club is on a b-line to major honours on al fronts in the seasons ahead. Minus injuries, the seniors have the potential to reach the top of the pile by the time the next white hot championship season comes around. For Martin Toye personally, the 1993 season provides an opportunity to him "to establish himself as a county player". A substitute on the Armagh team which went under to Derry in the 1987 final and a member of the team which fell to Donegal at the same stage three years later, Martin is still a man with a mission to accomplish. Remaining in the shop window, his two McKenna Cup medals attached, Martin Toye has not yet passed his sell by date!