---
North Armagh Gaelic Week 21 - 28 June 08
---
03 June 2008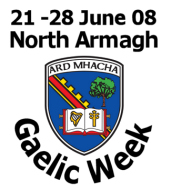 North Armagh Gaelic Week 21 - 28 June 08

An exciting and forward-thinking new concept is in the final stages of planning. A working group established by the North Armagh Board has initiated the inception of GAELIC WEEK.

The week commencing 21st June will give all clubs in North Armagh (Annaghmore, Clan na Gael, Clann Eireann, Clonmore, Eire Og, Maghery, Sarsfields, Sean Treacy's, St Malachy's, St Mary's, St Paul's, St Peter's, Tir na nOg, & Wolfe Tones/St Enda's) the opportunity to participate in a celebration of all things Gaelic, through various sporting and cultural events.

The extensive programme will involve Under 12, 14 & 16 football Championship Finals, 'B' Championship Final, Pat McMahon Cup and Shield Finals and Recreational/Social GAA (ie a series of fun-filled games/activities for the 'over 35s' in an attempt to encourage older people to take up exercise and physical recreation and perhaps renew their relationship with their club. Incidentally, the Ulster Council is using our Gaelic week to launch this initiative).

Also taking place are workshops for coaches/leaders/volunteers/young people, facilitated by tutors who are regarded as experts in their chosen field – an unique opportunity which club mentors cannot afford to miss out on.

Community focused events are also in the pipeline:- Scor, folk and traditional music, story-telling, Ceili, and a 'Talk-GAA' programme involving well known GAA personalities eg Joe Brolly. The grand finale of Gaelic Week will be take place on Saturday 28 June, and will begin with a Mass held in St Peter's Church, Lurgan at 12 noon.

Every club in the north of the county will have a role to play in the celebration of this special Mass. This will be followed by a parade through the streets of Lurgan led by non other than The Artane Boys Band. All clubs will march in an array of club colours behind their club floats - youth teams, parents, mentors, past and present players, committee members and all associates coming together to showcase the wealth of cultural heritage inherent in each Gaelic club in North Armagh. Indeed the stage is set for what is sure to be a truly spectacular sight and memorable day.

Armagh county flags will line the streets and roads of the town which the parade will pass along. Setting off from the Antrim Road, the length of North Street, Church Place, down Edward Street and finally to Davitt Park, Francis Street for an open-air, family-focused, alcohol free concert, commencing at 2pm and finishing no later than 5pm.

A great week of entertainment and celebration is approaching and every gael has his/her role to play, and it's as simple as just turning out to support your club and North Armagh kinship.

Further details of club arrangements for Gaelic Week will be filtered to everyone in the Maghery area over the next few weeks and it is anticipated that our lough shore club will excel on the day of the parade and in doing so will help fulfill the primary aim of Gaelic Week which is "to showcase a range of activities – on and off the field – that will better promote and celebrate GAA games and culture across North Armagh".

So, save the date: SATURDAY 28 JUNE.