---
In Memory of Mr Maghery
---
13 April 2003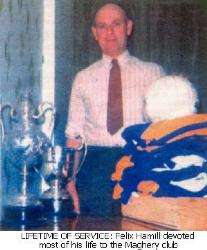 Michael McGeary, Sunday Life
April 13th, 2003

The official re-opening of the Felix Hamill Memorial Park this afternoon will be a proud moment for the Gaels of Maghery and surrounding area. For Felix, who passed away in July 1999, devoted the best part of 60 years to the local club during which time he served as treasurer for over 50 years.

But he was much more than that. With him the club always came first and it was a case of what he could do for the club rather than what the club could do for him.

A humble, unassuming man, he played full back with the Geraldines along with his broth- ers Eddie, Dessie, Colm and Brendan before the Geraldines amalgamated in 1948 to form Shamrocks.

Before his playing days ended he became club treasurer, a role he carried out with great honesty and integrity, virtues which served him well in later years when he served as vice chairman of the Armagh county board.

Closer to home he was also to fill a variety of roles, including grounds man, kit man, club delegate, manager and trainer.

Then during Armagh's resurgence in the 70s and 80s he was a more than willing and capable member of the backroom team, actually serving a spell as selector. His length of outstanding service was finally recognised in 1989 when he received the Clubman of the Year award for County Armagh, a proud moment for Felix and his wife Minnie who washed more football jerseys than most launderettes would in a lifetime.

Ulster Council Chairman John O'Reilly, who will officiate at the opening along with former GAA President Peter Quinn, first met Felix Hamill all of 50 years ago when Maghery and Crossmaglen played a league match.

"We were on the County Board together. 1 also spent a few years with him as a selector.

"But my one abiding memory of those early years when we both attended committee meetings was that he put his hand in his own pocket to keep Maghery going."

"That was a fact of life. He was straight, honest and a very decent man" stated O'Reilly.

BBC big match commentator and Armagh 1977 All Ireland captain Jimmy Smyth said: "He was one of the unsung heroes who always made sure things were done and neither sought the limelight nor the recompense for all his work."

"He was the first face you saw when you went to Maghery. His involvement with the county side was similar to Maghery in that he was always doing things unnoticed without seeking recognition of any kind."

First into action this afternoon (1.30 pm) are All Ireland minor champions Derry against Armagh with the blessing by Archbishop Sean Brady scheduled for 3.00pm, followed by the Maghery and Silverbridge league game half an hour later.