---
New Bridge Over River Blackwater
---
14 December 2001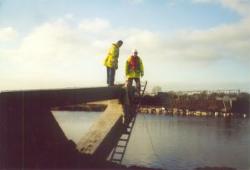 Friday 14th December marked an historic occasion when a new combined foot and cycle bridge was successfully lifted into place over the River Blackwater at Maghery. The twenty- five tonne steel bridge painted in a dark green finish was hoisted onto it's supporting abutments by the largest mobile crane in Ireland was watched by a number of spectators. The £300,000 contract undertaken by Deane Public Works Ltd. of Fermanagh has taken several years of planning and the joy on the faces on the project partners, funders and local residents was plain to see as it was been lifted into place. The new bridge is upstream from the former car ferry crossing that ceased to operate in the 1970's and which meant that a sixteen mile round trip had to be made between Maghery and Derrylaughan during the intervening years.

The project promoter is Cookstown and Western Area Network (CWSAN) alongside its strategic partners in Craigavon and Dungannon Councils. The construction of the bridge also forms part of the Loughshore Trail (Lough Neagh Cycle Way) being developed by CWSAN and due to open in the spring of 2002.

Former CWSAN chairperson and local resident Sean Donnelly explained 'The importance of the new bridge cannot be overestimated. Not only does it form a key link in the new Loughshore Cycle Trail; it will help reconnect the communities on either side of the river. For instance many locals from Dungannon side used to go to school in Maghery and many friends and families were effectively cut off from each other when the ferry ceased. While many would no doubt have liked to see a road bridge in place, this would have been beyond the remit and budget of Cookstown & Western Shores, however saying that we feel that at providing a road bridge in the longer term.'

The Department of Agriculture and Rural Development (DARD) put in £215,000 funding into the construction of the new bridge with £45,000 coming from Environment and Heritage Service (EHS) and the balance from local authority funding. Sean Nugent from DARD highlighted that the bridge was the flagship project of the Loughshore Area Based Strategy set up under the last Rural Development Programme and that it would no doubt be a lasting testimony to the success of the Area Based Strategy. He also indicated that the new Rural Development programme might offer further opportunities for the Lough Neagh region to build upon these recent successes.

Mary McAlinden, Community Information & Support Worker for South Lough Neagh Regeneration Association (SLNRA) and also a local councillor in the Craigavon Borough welcomes the construction of the bridge. She emphasised that the council has been proactive in developing and promoting countryside recreation opportunities over recent years and that both the bridge and the Loughshore Trail will further enhance recreation provision. Similarly both projects will add value to the work undertaken by SLNRA to promote the development of the region.