---
Maghery GFC Sportsman's Dinner
---
03 November 2000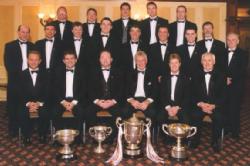 Friday November 3rd, 2000
Carrickdale Hotel, Dundalk

Friday November 3rd 2000 is a day that will live long in the memories of Maghery and Armagh Gaels. It was the day that months of organisation by members of the Maghery Sean MacDermott's club, and in particular the tireless endeavour of John Robinson, culminated in a spectacular and prestigious Sportsmanís Dinner attended by some of the greatest names in Irish Sport.

Main speaker on the evening, which was in aid of youth and development for Maghery Gaelic Football Club, was Pat Spillane (RTE Sport and Kerry Legend). Other speakers included Jarlath Burns (Armagh Captain 1999 and chairman of the PAG), Colin Patterson (ex-Irish Rugby International), and Charlie Swan (double Champion Hurdle winner). Jimmy Smyth (BBC Sport and Armagh Captain 1977) was host and Master of Ceremonies was Adrian Logan (UTV Sport). Also in attendance were Charlie Mulgrew (ex-Maghery and Donegal) and Damian O'Hagan (ex-Tyrone).

The evening had an Ulsterís Millennium Winners theme, with the manager and captain of each of Ulsterís successful teams in attendance. Dessie Ryan and Diarmuid Marsden represented the Queen's University of Belfast, winners of the Sigerson Cup. Eamon Coleman and Anthony Tohill were there on behalf of Derry, winners of the National Football League. St Patricks Grammar School Armagh won the McRory cup and Mattie McGleenon and Kevin Beagan were in attendance. Fr. Gerard McAleer, Mickey Harte, Cormac McAnallen and Richard Thornton represented Ulster and All-Ireland u-21 champions Tyrone. Ulster minor champions were Derry and Chris Brown and Sean McCann were present. Joe Kernan was there on behalf of Ulster and All-Ireland club Champions Crossmaglen Rangers. Armagh, back to back Ulster Senior football champions were represented by managers Brian McAlinden and Brian Canavan, captain Kieran McGeeney and Gerard Reid, James Byrne, Brendan Tierney and Cathal O'Rourke. The Railway cup was won by Ulster and were represented by manager Brian McEniff.

Over 400 guests packed into the Carrickdale Hotel in Dundalk for this most unique of occasions. After a welcoming speech by organising chairman John Robinson, Jimmy Smyth got the evenings entertainment under way. In his address he welcomed all the guests of honour and recounted some of his memories of playing against Maghery.

Jarlath Burns
First speaker was Jarlath Burns, who started by saying that he almost wasn't able to attend as he had also been invited to the GPA dinner in Killarney. He said that members of the GPA even went so far as to fax him a copy of the menu... and he was the main course! He offered apologies on behalf of the Culloville team who he said couldn't make it as one of their players fell during training and a broke a nail on his big toe... and that they were still waiting for an ambulance to arrive. He apologised too for Armagh Pearse Og. Apparently they couldn't make it because they hadn't received eight days notice! Jarlath spoke fondly of "end of league understandings" between his club, Silverbridge, and Maghery. He explained that the place name "Maghery" comes from the old Irish word "Machaire" meaning "flat plane", but that if you go further back into the history of the language it has a better meaning... "place inhabited by wee tight men with moustaches"!

Colin Patterson
Colin began by saying that he had been chatting to Adrian Logan before the start of the evening, and learned that Loggie has anorexia... as every time he looks in the mirror he thinks he's fat! Colin reminisced about going on tour with the Irish rugby team in 1979, when the coach was Noel Murphy from Cork. He recounted many tales from tour and spoke of some of the greats of Irish rugby. He spoke of his hometown of Donaghadee and of the Formula 1 racing driver Eddie Irivine. Colin, who is a lawyer, said a client came to see him and asked how much he would be charged for two questions. Colin responded "£500, now what's the second question?"

Charlie Swan
After flying in late to Dublin and driving up to the Carrickdale Hotel, Charlie, who had a race in Chepstow the following morning, was given a big welcome by the crowd. He spoke in interview with Adrian Logon. When asked if he thought many people had lost much money on him he responded by saying with a smile "probably millions". Charlie agreed that to remain in top in horse riding takes a lot of effort, but that when it's something you love doing and when good horses come round it makes it easier. After being encouraged by the punters in the crowd Charlie even divulged his expert tips for the following days meeting at Chepstow. Charlie finished by describing when he won his third Champion Hurdle as the high point of his career, and gave a special mention to Richard Dunwoody, whom he considered his idol.

Auction
The main fundraising activity on the night was the auction of the following items, many of which held great appeal for the large number of sports enthusiasts in attendance. The auctioneer was Sean Harvey from Moy, whose professional and exciting approach was as entertaining as it was effective.
Statuette Depicting Local Fishermen
Sponsored by: Whiteisland Nurseries & Landscaping, Annaghmore Fuels,Clare McElroy, Castleblaney
Irish International Rules & Irish Rugby Jerseys
Sponsored by: Charlie McKeever & Sons, McBride Sports
Fourball - Two Rounds of Golf - Dinner - B&B - Lunch
Sponsored by: MJ Hendron, BC Mini Skips
Armagh & St Patrick's College Jerseys
Sponsored by: McBride Sports
Set of Brian Valley Limited Edition Prints
Sponsored by: O'Neill & Brady Ltd, D & J Decor
Signed Roy Keane Manchested United Jersey
Sponsored by: Charlie McKeever & Sons
Istrabraq Print signed by JP McManus & Charlie Swan
Sponsored by: Irvine Sellers, Moffat Thallon
Ireland v France Rugby Match Weekend Break at Conrad Hotel, Dublin
Sponsored by: McQuillians Menswear
Local Scenes Painted by Teresa Murphy & Eddie O'Neill
Sponsored by: Rathbanna Copper Works, Provincial Mortgage
Weekend to Budweiser Irish Derby staying in Dury's Hotel, Dublin
Sponsored by: Ballykelly Wood Products, John Barret & Sons
Four Rounds of Golf & Four Evening Meals at Druids Glenn
Sponsored by: Declan Stewart Joinery, Steven Magee Electrical Contractor
Two Premium Level Stand Tickets for All Ireland Hurling Final 2001 with Weekend Stay in the Burlington Hotel, Dublin
Sponsored by: Quinn Direct, Derrlin, Co. Fermanagh
Day Trip to Punchestown Racing Festival for 8 Persons on Shell Champion Hurdle Day, Chaufeur Driven Limousine
Sponsored by: Kernan Precast Concrete, Northern Bank Portadown, Tennyson Decor Centre
Two Premium Level Stand Tickets for All Ireland Football Final 2001 with Weekend Stay in the Burlington Hotel, Dublin
Sponsored by: Brian McGurgan Insurance
Trip to Old Trafford for Manchester United V Everton for 2 Persons - Meals, Museum, Drinks and Gifts. Hosts Kevin Moran & Jesper Olson
Sponsored by: Armagh Business Accounts Services, Red Neds Bar, Armagh
Three Day Break to the 2001 Barcelona Grand Prix
Sponsored by: S.J. McConville Builders

Pat Spillane
Pat began by saying that John Robinson was a very persistent man, as he was first asked by John to attend the evening over twelve months previous. He also thanked all those who purchased auction items, for helping to ensure that the clubs fundraising efforts were a success. Pat commented on table 19 where special invited guests, Ulsterís Millennium winners, were seated. He said that he did his calculations and if there was a transfer market in Gaelic football, for all the men at that table and a couple of extra million, you could have Seamus Moynihan!

Pat continued " I didnít realise that there was going to be a photo call with all the trophies... well almost all the trophies... if I had realised, I couldíve brought another trophy - that we have down in Kerry!" He also let everybody in on the fact that he has just become part owner of a new race horse, five of the owners being from Kerry, and five from Kildare... the name of the horse is "Lily Pat".

Pat claimed that he doesnít get invited to many GAA functions, and when he is does he always worried in case he may have previously insulted somebody, but he claimed not to have said anything bad about Armagh in 2000. He went on to congratulate Ger Reid for an excellent year at full back with Armagh. Pat said that people often rib him after games about getting predictions wrong, and his reply is always to agree but add that next week heíll be getting paid to explain why he was wrong! He recalled that he knew his career as a pundit was never going to be easy after the first article he wrote, in 1977, for the All-Ireland final... he tipped Armagh.

Pat said that he was best described by the quote "a critic is a person who searches for ages for the wrong word, which, to his credit, he eventually finds". Pat then spoke about present day Gaelic football, stating that he felt there was too much emphasis on fitness in the modern game. He added that he enjoyed the Armagh - Kerry games, for the fast play and great scores. He claimed that the bottom line was that Armagh should have won an All-Ireland semi-final in 1999 and should have won two All-Ireland semi-finals in 2000, but foresaw 2001 being very difficult for Armagh, with the new format to the championship.

Prize Draw Winners
There were two prize draws held on the night, the prizes and winners were:
First Draw
Weekend Break for 2 including Golf at the Great Northern Hotel, Bundoran, Co. Donegal
Sponsored by: S.J McConville Builders
Second Draw
1st Prize - 3 Day break to Paris including flights and accomodation
Sponsored by: Bann Contracts
Won by: Seamus Laverty
2nd Prize - Meal for 4 at the Canal Court or the Carrickdale Hotel
Sponsored by: Management of the Carrickdale Hotel
Won by: Joe Hendron

3rd Prize - Case of Wine
Sponsored by: Red Neds Bar, Armagh
Won by: John McGuinness
Charitable Donations
Although the intention of the Maghery Sportsmanís Dinner was to raise funds for youth and development in the area, other good causes were not forgotten and a donation was made to Our Ladyís Hospital, Crumlin and the Royal Victoria Hospital for Sick Children. Each received a cheque for £750 from the club.

Presentation
Pat Spillane, on behalf of Maghery Sean MacDermottís Football Club, completed an enjoyable evening with the presentation of a piece of Tyrone Crystal to John Robinson, the organising chairman. It was only fitting the final word went to John who said that it was a great night for the club and that he felt honoured by the presence of so many great people from the world of sport. He added that everybody who attended had made him the proudest man in Ireland that night.