---
Maghery Make No Mistake
---
24 August 1962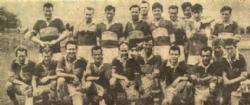 Maghery 4-10 Whitecross 2-03
24th August 1962, Armagh Junior Championship Final

Maghery Take Title After One-Sided Battle
The junior final between Maghery Shamrocks and Whitecross proved a major disappointment after the great performances by the two teams in the earlier stages of the Championship. Maghery cannot be blamed as they completely out-played the opposition in all departments.

The collapse of Whitecross (in a game in which they were given an even chance by many good judges) is very hard to explain. They lacked nothing in fighting spirit and their gallant efforts when all was lost won them many new friends, but the whole team seemed overcome by the occasion and as so often happens in these circumstances hardly a thing went right for them.

I have a feeling, too, that the first nail was driven in the Whitecross coffin when their captain won the toss. He immediately gave wind and ground advantage to Maghery who seized the chance to leave themselves in an impregnable position at half time. What would have happened if Whitecross had taken the advantage of the elements will never be known, but I am confident that whilst Maghery would still have won, the margin of their victory would have been much less indeed.

Difficult Conditions
Incessant rain had left the pitch in a difficult condition and heavy showers during play added to the general discomforture of the players. Maghery were on top in the early stages and soon had a firm grip at midfield. The Whitecross defence was subjected to tremendous pressure and twenty minutes had gone before the Maghery goalkeeper had handled the ball.

Leo Robinson, at centre three quarters, gave the opposing defence an uneasy time. His quick deliveries, dangerous lobs and accurate placing always spelt danger for the Whitecross men. He only scored one goal himself, but was the architect behind the bulk of his colleagues' successful efforts. His leadership of the entire line was a highlight of the game.

Tom Robinson at right corner, was always on the spot to finish off movements and besides having a personal tally of 2-03 he had a hand in many of the other scores.

Noel Toye, at full forward, gave the opposing defence a great deal of trouble, and had a useful contribution of 1-01.

Jim Joe Fox (a member of last year's Minor County Championship side, St. Jarlath's) had a magnificent game at midfield. He fielded and kicked well, his long raking kicks to the wings frequently turning defence into attack.

Wing three-quarters Jerome Mulholland (0-02) and C. Reynolds (0-03) caught the eye often. Their good fielding combined with a fine ability to score long range proved to a useful asset.

S. McKenna, G. Laverty and B. Hamill were most conspicuous in a not overworked Maghery defence.

Best Wishes For Whitecross
It was a disappointing day for the Whitecross players and supporters alike. However, in Pat Finnegan, at centrefield, they have an outstanding player who got good support from J. Moley. In a defence which was up against it practically all the time, S. Donnelly, B. McParland and P. Toner did magnificent work. Goalkeeper F. Toner could hardly be blamed for the scores against him.

In the forward line, T. Toner never gave up and had 1-02 whilst Con Malone, at centre three-quarters, was always prominent. His two scores were well taken.

Kevin McGeogh, at right corner for most of the game looked very dangerous and it seemed a pity that he wasn't given more of the ball.

After three minutes play, Maghery were a goal up through J. Mulholland and a minute later C. Reynolds had his first point. T. Robinson went on a scoring spree and before the end of the first quarter added 1-03. A minute later Jim Joe Fox had another point to leave the score 2-06 for Maghery without reply.

In the 20th minute Whitecross launched their first attack and T. Toner had a splendid goal which had the Maghery defence beaten all ends up. Heartened by this success, Whitecross kept up the pressure and C. Malone and Toner added points before Noel Toye (Maghery) more or less killed any hopes of a revival with a well taken goal just on half-time to leave the scores: Maghery 3-06, Whitecross 1-02.

On the turn over Robinson, Mulholland, Reynolds and Toye added 1-03 to the winners total before Toner and Malone replied with a point and a goal respectively. It was left to N. Toye to complete the tally with a point five minutes from time.

Final tally - Maghery 4-10, Whitecross 2-03

There was no doubting the winners superiority at any stage. Indeed, they had also two goals disallowed for "square" infringements, but it was most unfortunate that Whitecross should have an off day in such an important engagement, for I am certain that we will be hearing much about this fine young side in the near future. With Maghery they share the credit for giving us one of the most sportingly contested games of the year.

Maghery: G. Fox, G. Robinson, S McKenna, S. Laverty, J.J. Fox, E. Hamill, J. Mulholland, L. Robinson, C. Reynolds, T. Robinson, N. Toye, T. Reynolds. Subs: S. Toye for T. Reynolds

Whitecross: F. Toner, B. McParland, P. McParland, J. Toner, P. Toner, S. Donnelly, B. O'Hanlon, P. Finnegan, J. Moley, O. Murphy, C. Malone, P. McCann, K. McGeough, T. Toner, J. McKeown. Subs: T. Rafferty for P. McCann

Referee: D. McAreavy, Portadown.