---
The McKillop Cup
---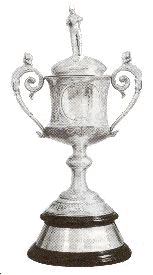 FEBRUARY 26th, 1906, was the day on which the Gaels of County Armagh first heard of the McKillop Cup. On that day Father Montague, C.C., Whitecross, read a letter from Mr. William McKillop, Glasgow, the National M.P. for South Armagh, offering a cup and set of medals for a league competition for senior football teams in County Armagh.
The offer was unanimously accepted on the proposal of Mr. J. Cotter, N.T Markethill (a Cork man), county chairman, seconded by Mr. 0. Fegan, Whitecross, father of Frank and Brian Fegan, Louth stars of the late Forties. Fr. Montague, Mr. Cotter and Mr. P. McKnight, Keady, were appointed trustees. It was decided that the cup would go to the winners of the 1906 Senior league, and that it could be won outright by three successive victories or four victories in all.
These rules were later changed, and since 1931 the McKillop Cup has been the perpetual trophy for the senior football championship of County Armagh. Crossmaglen Red Hands, as Rangers were then called, had inhaled the first sweet smell of championship success in the same year (1906), and were more than anxious to be the first team to inscribe their names on the plinth of the McKillop Cup.
They swept through the league in irresistible fashion and on 17th March, 1907, clinched the 1906 league title with a victory over Whitecross by four points to two. Red Hands were declared first winners of the McKillop Cup, and on 4th May, 1907, the cup was presented to Frank McArdle, John Begley (R.I.P.), Peter Murphy and James Shorts (R.I.P.) by Fr. Montague in Whitecross, and brought home in triumph to Crossmaglen.
From then on the McKillop Cup competition practically eclipsed the championship, and not until 1917 did the McKillop Cup leave South Armagh, when either Armagh Tir-na-nOg or Armagh Young Irelands won the cup for the first time. In 1918 and 1919 the McKillop Cup competition was dominated by two bitter Upper Creggan Parish rivals, Crossmagien Plunketts and Clonalig Dillons.
The Dillons won the cup in 1919, and because of the cessation of G.A.A. activities due to "The Trouble" (1920-22) it remained in Master Hearty's, Clonalig, until 1923. Back it came again to Gene Hanratty's sideboard in Crossmaglen in 1923.
For five years - 1923 to 1927 - Rangers held on to the cup, and it passed so much from house to house in Crossmaglen that it was "lost" for a year or two. At the 1931 County Convention, on the proposal of that doughty Camlough Gael, Mr. Dan Fearon, the McKillop Cup, recently unearthed, was allocated to the county senior championship. It was won that year by Armagh Young lrelands, and ever since then the McKillop Cup has added lustre to the winning of the county championship.