---
Sean MacDiarmada
---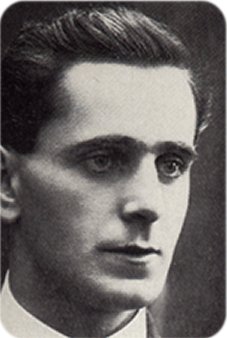 Sean MacDiarmada
1884 - 1916

Sean MacDiarmada was one of the greatest of the Easter Week leaders. He was not a writer, though he did manage a newspaper. He was so quiet and unassuming that he tends to be forgotten. Yet he was one of the greatest Irishmen that ever lived.

MacDiarmada was Tom Clarke's close friend. Clarke had completed one of his 15 years... in English jails when Sean MacDiarmada was born in Kiltyclogher, Co. Leitrim, in the year 1884. Like Clarke, he ran away from home when he was only a boy - just 15. He arrived in Glasgow in search of employment with only a few shillings in his pocket, and was lucky to have an uncle living in that city.

His uncle was a gardener and for a time Sean worked with him, but gave up gardening to become a conductor on the Glasgow trams. Here he worked for 12 months, and stayed altogether 2 years in Glasgow.

Then he returned to Ireland and went to Belfast, where he worked for a time as a tram conductor, and later as a barman. In Belfast he joined the Ancient Order of Hibernians closely associated with the Irish Parliamentary Party. The AOH was considered the custodian of Irish nationalism, but MacDiarmada did not remain long a member of the Order.

Soon after settling in Belfast he joined the local branch of the Gaelic League and became a fine Irish speaker. It was in the Gaelic League that he came into contact with such men as Denis MacCullagh, Sean MacGarry and Bulmer Hobson, who were then leading the secret Republican organisations, the IRB, and working through an open political organisation called Cumann na nGael, an advanced political movement which advocated Republicanism.

Mac Diarmada's personal charm and sincerity, and his capacity for hard work, made him the obvious choice of the IRB to organise a further extension of republican formations, when they launched the Dungannon clubs about the beginning of the present century.

His success as organiser resulted in an invitation to join the Belfast Circle of the Irish Republican Brotherhood. This was in 1906, 10 years before the Rising. When he took the IRB oath he was already a member of Arthur Griffith's Sinn Fein organisation, and in 1906 was one of the delegates from Belfast to the Sinn Fein annual convention in Dublin. Sean MacDiarmada was a member of the secret military Council which planned the rising and, as such, held a position of great importance and trust.

At that time he was only 22, but his speech at the convention made a deep impression. He is described as a "striking handsome, and earnest, speaking with natural eloquence and with a sincerity which held his audience, gay and light-hearted with a gift of telling a humorous story and a tongue that was witty without being malicious."

Mac Diarmada's association with Sinn Fein did not last very long, as his main concern was to spread the IRB throughout the country; but it lasted long enough for him to take part in the first parliamentary election at which a Sinn Fein candidate stood.

That was in North Leitrim, his native county. The year was 1907. MacDiarmada put in many months of strenuous week-end campaigning; indeed the whole direction of the campaign devolved upon him. Day and night he canvassed from door to door, and mile after mile he trudged across the Leitrim mountains in all kinds of weather.

The Sinn Fein candidate was CHARLES DOLAN, who only died recently and one of the speakers on the Sinn Fein platform during that election was MISS ANNA PARNELL, sister of CHARLES STEWART PARNELL. She and Sean MacDiarmada addressed many meetings together advocating the new idea that 'the elected representatives should not attend the British Parliament at Westminster.'

The result of the election was a complete defeat for DOLAN, the Sinn Fein candidate. Sinn Fein's day had not yet come. It took 1916 to awaken the people and when Count Plunkett was elected as Sinn Fein M.P. for Roscommon in 1917, Sean MacDiarmada was in his quicklime grave at Arbour Hill.

But the seeds he had sown in Leitrim in those early days had borne fruit, and his death bore testimony to Pearse's famous:'Life springs from death, and from the graves of patriot men and women spring living nations.'

The hardships he endured during the Leitrim elections campaign brought on the attack of polio (in 1912) from which he recovered, but which left him lame for the rest of his life. After rising from a sick bed where he had been for nearly nine months, MacDiarmada always carried a stick to help him to walk. He carried this stick into the G.P.O. on Easter Monday, 1916.

Sean MacDiarmada fought in the G.P.O., where he was attached to the headquarters staff under James Connolly. It was Sean MacDiarmada that read Padraig Pearse's letter of surrender to those in the G.P.O.

After the surrender The G.P.O. garrison was huddled together on the grass patch outside the Rotunda Hospital, surrounded by a ring of British bayonets.

Some of them were to face the firing squad, others to cross the sea to foreign prisons, others to fight again on the hillsides with the flying columns of 1920-21. Men in civilian clothes darted in and out through the huddled groups, spying and spotting.

Suddenly one of them would stop in front of a row of men, and say "Take him". The British would take another prisoner, and the prisoners thus taken were marked for the execution squad. The British did not know the leaders. Their Irish detectives did.

One of the prisoners sitting on the grass patch was MacDiarmada, early that day he had been insulted by a sneering British officer who remarked: "Do the Sinn Feiners take cripples in their army?"

Towards evening the spotters returned. This time they picked out the man with the stick. It was late at night when they picked him out; a detective put his hand on MacDiarmada's shoulder, he knew him and knew his position in the movement. He remarked to the officer - "the most dangerous man after Clarke."

Sean MacDiarmada was executed on May 12, 1916, the same day as James Connolly. They were the last two to face the firing squad.

What of the "detective"? The men who came back from the British internment camps to reorganise the IRB and to put the IRA flying columns on the hillsides were led by one of MacDiarmada's greatest friends, MICHAEL COLLINS. At the height of the Tan war in 1920 the active service unit of the Dublin Brigade shot this detective.

Sean MacDiarmada was a transport worker, a tram man, and to perpetuate his memory the bus depot at Store Street, Dublin was named after him - Arus Mac Diarmada.

Reproduced from rootsweb.com
© 1998-2000 Fianna Webmaster Team
Lament for Sean MacDermott
By Seamus O'Sullivan
THEY have slain you, Sean MacDermott; never more these eyes will greet
The eyes beloved by women, and the smile that true men loved;
Never more Iíll hear the stick-tap, and the gay and limping feet,
They have slain you, Sean the Gentle, Sean the valiant, Sean the proved.

Have you scorn for us who linger here behind you, Sean the wise?
As you look about and greet your comrades in the strange new dawn.
So one says, but saying, wrongs you, for doubt never dimmed your eyes,
And not death itself could make those lips of yours grow bitter, Sean.

As your stick goes tapping down the heavenly pavement, Sean, my friend,
That is not your way of thinking, generous, tender, wise and brave;
We, who knew and loved and trusted you, are trusted to the end,
And your hand even now grips mine as though there never were a grave.
Reproduced from bartleby.com
© 2004 Bartleby.com